Morgan Palladino, ARNP or Advanced Registered Nurse Practitioner, is certified in Women's Health and based in Jacksonville, FL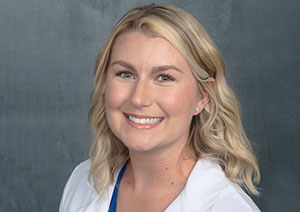 Morgan Palladino has over six years of nursing experience. She graduated with her Bachelor of Science in Nursing from the University of Florida. She then attended the University of South Alabama where she completed her Master of Science in Nursing for both family practice and emergency medicine. She is board certified in family practice through the American Association of Nurse Practitioners. Additionally, she completed a post-graduate certificate in palliative medicine.
Morgan has a very special interest in reproductive medicine due to her own personal experience with infertility. She is focused on helping her patients navigate infertility not only medically, but also emotionally.
She has been local to the Daytona Beach area for most of her life. When not at work, she enjoys spending time with her husband and their dogs. You can often find her reading a good book at the beach!